23 unique things you can only buy in London
---
From gifts for your loved ones to authentic British souvenirs, a visit to London is never complete without a spot of shopping. But if this is your first visit to London or your first time shopping in the British capital, you've probably got a few questions: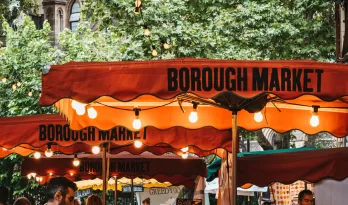 "What can I buy in London that is truly unique?", "Where are the best things to buy in London?" and "What things can I only buy in London?".
To make your shopping spree in London that little bit easier, we've pulled together the best experiences and exclusive London purchases. From Harrods souvenirs to Britain's finest tea, the ultimate list of things you must buy in London includes:
Shops That Are Only in London

Gifts From Top London Attractions

Exclusive Tours & London Gift Shops

London Hampers & Dining Experiences

Markets in London
Don't forget! If you're looking for an easy way to both shop and see London's sights, hop on board our open top bus tours.
Shops That Are Only in London
From high-end fabric from Liberty London to a bespoke suit from Savile Row, there are some great places to go shopping in London for unique purchases to bring home.
1. An Umbrella from James Smith & Sons
If the British weather is causing you a problem, James Smith & Sons have an elegant solution. This world-famous shop in London has been crafting unique handmade umbrellas and walking sticks since 1830 and the shop front on New Oxford Street still features its original Victorian design.
For men: City Umbrella
For women: Pencil Umbrella with Malacca Crook
2. Exclusive Fragrances from Jo Malone's Regent Street Boutique
While you will certainly find Jo Malone stores dotted across UK high streets, the Regent Street boutique offers some unique purchases you can't get anywhere else. Buy exclusive fragrances, coloured bottle caps or personalise your scent or candle with an embossed message. If you love Jo Malone, you'll love the Archive Collection and Artisan Studio on Regent Street.

For men: Whisky & Cedarwood Cologne
For women: Orange Blossom Cologne
3. A Toy Theatre from Benjamin Pollock's Toy Shop
Benjamin Pollock's in Covent Garden is one of the only toy shops remaining in the West End. They specialise in traditional toy theatres and shadow boxes but also stock a range of toys, games and books. If you're visiting London with little ones and would like to buy them a traditional British toy, head to Benjamin Pollock's.
4. Penhaligons Perfumes
Although Penhaligons Perfume stores can be found all across the UK, it's worth visiting the location in London where the famous company was established. An emblem of sophistication, prestige and style, Penhaligon's gorgeous scents make perfect gifts. A Little Luxuries gift set or luxury body wash would be the perfect thing to slip in your carry-on bag.

For men: The Tragedy of Lord George Eau de Parfum
For women: Ladies' Fragrance Collection
5. A Hat from Lock & Co.
Celebrated as the oldest hat shop in the world, Lock & Co. Hatters is the perfect place to admire beautiful hats while surrounded by history. Established in 1676, the unique designs have added character to some of the world's greatest figures, such as Oscar Wilde and Admiral Lord Nelson. Marvel at the fine craftsmanship and learn about the company's rich history.

For men: Men's Rollable Panama
For women: The Andrea
6. Fabric from Liberty of London
Regent Street is London's most iconic shopping destination, with high-end department stores and quirky individual boutiques. Famous for fashion, beauty and homeware collections, Liberty London is best known for its vast range of exquisite fabrics. A textile-lovers paradise, don't miss your opportunity to buy some fabric for your own creation!

For men: Cotton Pyjama Set
For women: Tudor Tote Hamper
7. A Sensory Journey in Lush Oxford Street
Lush is known and loved for their innovative, natural products. While you can visit Lush stores all over the UK, the Oxford Street store is a playground for smells, samples and spa treatments. There is an explosion of colour spread across three floors, and you can buy exclusive products and try out new inventions while you explore.
For men: Shaving Cream
For women: Rosy Cheeks Face Mask
For kids: Rocket Science Bath Bomb
Gifts From Top London Attractions
Whether you're heading to one of the best museums for kids or a popular tourist hotspot, don't forget to head to the gift shop before you leave!
8. Buckingham Palace Shop
If you love the Royal Family, Buckingham Palace is definitely worth a visit if you're in London during the summer. The chance to discover the palace is something you can only experience in London and once you've completed your visit, head to the palace gift shop to purchase some souvenirs. See how the Royals live and take a piece of the luxury home with you.

For men: Buckingham Palace Red Leather Desk Pad
For women: Victoria and Albert Pillbox
For kids: Children's Book 'The Queen's Castle At Windsor'
9. Big Ben
Big Ben is one of London's most iconic landmarks, and a photo opportunity you shouldn't miss out on when visiting London. Take a tour around the Houses of Parliament to see where decisions are made in the capital and take home key chains, jewellery and more from the gift shop.

For men: Royal Scot crystal tot glass
For women: Cotton Big Ben Tote Bag
For kids: Barry Bear
10. British Museum
To discover the best of British History under one roof, head to the British Museum. You'll learn about the history of Roman Britain and can wander around the various galleries and exhibitions to discover Britain through the ages. Before you leave, visit the museum gift shop where you'll find novelty gifts, classic British designs and souvenirs.

For men: Lewis Chessmen Chess Set
For women: Japanese Silk Scarf
For kids: Galileo's Globe Puzzle
11. Natural History Museum
Delve into the history of life on Earth at The Natural History Museum. Boasting magnificent architecture, the museum is renowned for its vast range of exhibits, collections, scientists and research. Head to the gift shop after a fantastic day of learning to remember your stay in the capital city with souvenirs from children's toys to beautiful jewellery.

For men: T.rex Custom T-shirt
For women: Natural History Museum Tea Towel
For kids: Make Your Own Solar System
Exclusive Tours & London Gift Shops
There are some things that money can't buy, and some of those things are London experiences. Take an exclusive tour and explore great gift shops full of London souvenirs to buy when you are finished.
12. Paddington Bear Merch
A fantastic place to go with kids is the Paddington Bear Shop at Paddington Station where the iconic stories of Paddington Bear are set. Venture to Platform One and find a bronze statue of Paddington where you can pose for a photo and bag yourself a free souvenir. Find keyrings, books and other exclusive gifts at this unique shop.

For men: Paddington Bear Coin
For women: Steiff Paddington Bear Ornament
For kids: Paddington Cookery Book
13. Football Scarf
Football is the most popular sport in British culture and London is home to some of the greats. Arsenal, Chelsea and Tottenham are all within easy reach for a fascinating stadium tour revealing the history of the iconic clubs. A football scarf, and other related memorabilia, serve as great gifts and can be found in merchandise stores or souvenir shops on New Oxford Street.

For men: Chelsea FC Scarf
For women: Arsenal Football Shirt
For kids: Tottenham Kids Cap
14. Harry Potter Studio Tour
For a Harry Potter fan, the Warner Brothers studio tour or a visit to Platform 9 ¾ is crucial in London. Once you've wandered through the Great Hall or taken a photograph on the platform, head to the gift shop for some exclusive buys. Purchase a personalised Hogwarts acceptance letter, plush toys or clothes and accessories adorned with your Hogwarts house.

For men: Chocolate Frog
For women: Time-Turner Necklace
For kids: Personalised Gryffindor Robe
London Hampers & Dining Experiences
From independent cafes to luxury dining experiences, there are a great selection of restaurants to try and foods you can only buy in London.
15. Wild Food Cafe
Tucked away in Covent Garden, Neal's Yard is a treasure trove full of hidden gems. Amongst the independent shops and cafes, you'll find the Wild Food Cafe, which is an innovative plant-based restaurant and shop. Try out some delicious meals in the restaurant or head to the shop for organic produce and shop merchandise.

16. London Dry Gin
Independent gin bars in London have boomed following a rise in British craft distilling, bringing unmissable experiences with the likes of the City of London Distillery. Serving tasty deli platters and an array of refreshments, the bar is home to a popular Distillery Tour and award-winning Gin Tasting experience. For a perfect souvenir, head to the shop and buy an original London gin.

For men: Connoisseur's Cut Gin
For women: Pink Grapefruit Gin
17. Hampers from Fortnum & Mason
As a quintessential part of London's history, Fortnum & Mason in Piccadilly is the world's most famous corner shop. Founded in 1707, the store began profiting by selling spare wax from Queen Anne's candles. Later evolving into a foodies paradise, don't miss your chance to buy one of London's most famous luxury hampers.

For men: The Piccadilly Hamper
For women: The Marylebone Hamper
For kids: Musical Piccadilly Biscuit Selection Tin
18. Tea from Whittard of Chelsea and Twinings
There is nothing more British than a delicious cup of tea, so immerse yourself in the city's culture as you pass by one of Whittard's many stores. If a traditional Earl Grey or artisan tea isn't for you, perhaps a cup of coffee or cocoa will satisfy your taste buds. The pre-packaged tea bags, teapots and hampers also make marvellous gifts and souvenirs.

For men: Coffee Lover's Box
For women: The Afternoon Tea Collection
For kids: Alice in Wonderland Tea Party Mug
19. Harrods Food Hall
Eat your way around the world at Harrods. With so many restaurants, cafes and afternoon tea rooms to choose from in London's exclusive department store, you'll find something to satisfy your taste buds. If you want lunch on the go, head to the food emporium for the bakery, fresh meats, drinks and snacks and purchase some Harrods souvenirs before you leave.

For men: Johnnie Walker Whisky
For women: Elizabeth II Commemorative Tote Bag
For kids: Harrods Musical Tin
Markets in London
Markets are free to visit and a great place to go if you're looking for delicious street food to grab on the go. You can also find a number of unique gifts and antiques at these popular London markets.
20. Borough Market
Borough Market in Southwark is London's oldest food market. The market is home to lots of independent cafes and traders where you can try and buy traditional British produce and authentic global cuisine. The selection is endless and includes baked goods, fruit and veg, confectionary, homewares, accessories and much more.
21. Brick Lane Market
For an eclectic mix of vintage clothing stalls, street markets and food halls, head to Brick Lane Market. The Old Truman Brewery at Brick Lane is home to a selection of restaurants, independent stores and the Boiler House Food Hall where you can buy a selection of foods from around the world, representing a truly multicultural London.
22. Portobello Road Market
Visitors travel from all over the world to explore Portobello Road Market in Notting Hill, the world's largest antique market. Over 1000 traders line the streets of Portobello Road every day, except Sundays, selling all variations of antiques and collectables. Whether it's fresh fruit, new fashion or vintage items, don't miss your chance of securing a bargain!
23. Columbia Road Flower Market
If you're a fan of flowers and foliage, then you can't miss the unbelievable Columbia Road flower market. It is open every Sunday and is perfect if you're looking for a Mother's Day gift. The street is transformed into a floral oasis, selling everything from delicate bouquets to huge banana trees. For a small, compact souvenir, pick up some pre-packaged bulbs and seeds.
Don't miss out on the best souvenirs in London and unique experiences in the capital. See the city's best bits on a sightseeing tour bus by booking your tour tickets below.