Gay Pride in London
---
Take advantage of the 50th anniversary of the Pride in London from 4 June 2022 to 2 July 2022 to explore the city. Celebrate the diversity of the LGBT+ community at free festivities in Trafalgar Square and events across the city. End on a high note with the colourful London Pride Parade.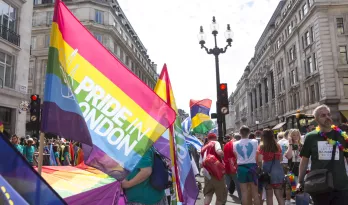 When was the first Gay Pride in London?
The first officially coordinated UK Gay Pride march took place in London on 1 July 1972. This march both celebrated LGBT+ individuals and demonstrated the need for improved representation and rights. While the Pride marches became an annual event in London, there was still significant work to be done. The London pride marches were joyful and festive, but they were protests against injustice.
Pride in London is coming back this year after two years of Covid-induced cancellations and live streams. This year, the parade is aimed to be a 'march towards progress'. They're calling on the UK government to ban conversion therapy for all LGBTQ+ people, to reform the Gender Recognition Act, to provide equal protection for LGBTQ+ communities against hate crime, to establish a national Aids memorial and more.
Pride in London celebrates the capital's LGBT+ (lesbian, gay, bisexual, trans +) community with a programme of events showcasing LGBT+ culture, including theatre, dance, art, cinema, parties and activities across the city.
What are the upcoming Gay Pride events?
The Pride Festival kicks off on June 4, 2022. During this month, you can assist a myriad of events, concerts, performances, and activities. Here are some ideas to go out and enjoy with your friends.
Come and meet new people while improving your Spanish at a meeting on Saturday 12 June from 2pm to 3pm at the London LGBTQ+ Community Centre. The conversation will be led by Diana and will include questions and short exercises.
How to get there ?
Yellow route : Hop off at stop n°6 St Paul's Cathedral
Attend a jukebox night on Saturday 18 June 2022 from 6pm to 7:30pm at BFI Southbank to celebrate 100 years of the brilliant Judy Garland. During this event, clips of some of the best-known hits from her career will be played, songs like 'Meet Me in St. Louis' 'The Trolley Song', Summer Stock's infectiously joyful 'Get Happy', and of course 'Over the Rainbow'.
How to get there ?
Yellow route : Hop off at stop n°4 Waterloo Station
When does the Pride Parade take place?
This year is a significant year for the Pride movement and the LGBT+ community as it is the commemoration of the 50 years since the first Pride took place in the United Kingdom. The Pride Parade will take place on July 2, 2022 and will welcome 40,000 marchers and more than 400 community groups.
The Pride in London parade attracts crowds estimated at over 1.5 million people out onto the city's streets to watch the hundreds of bright and colourful floats and walking groups from many organisations, accompanied by a constant wall of noise from a variety of live music performers.
For the 50th anniversary, the route will be the same as the 1972's historic march. The parade will begin at Hyde Park, where the first post-march picnic took place in 1972, and end at Whitehall Place (not at Trafalgar Square such as during the 1972 march). It was confirmed in an announcement on 6 April. Here are the main spots of the parade:
Oxford Street
Piccadilly Circus
Trafalgar Square
Whitehall
To find all these places and to help you find your way around London, download the Tootbus application available on App Store and Play Store.
To continue your visit, discover our ideas of festivals in London this summer.