Top 10 London Summer Festivals
---
How about spicing up your discovery of London with participation in a festival? This summer, London is hosting a wide range of events, from music to entertainment to food, for all to enjoy. Find out what they are and plan them to suit your taste!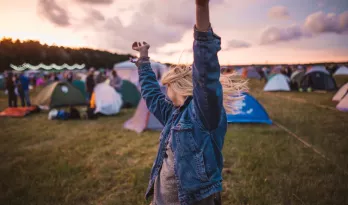 London music festivals this summer
Field Day
Now considered one of London's most popular festivals, Field Day is part of a bigger music and entertainment festival, All Points East, taking place in Victoria Park (east London) from 19th August to 28th August 2022.
To celebrate its 15th edition, the one day festival has put together an exquisite line-up, from The Chemical Brothers to Kraftwerk to Peggy Gou behind the decks. This summer, electronic music comes to London on 20th of August on three different stages with live performances, DJ sets and cutting edge sounds. You can enjoy the outdoor party with both established and new artists throughout the day on Saturday to celebrate the end of summer.
To quench your thirst and grab a bite to eat throughout the day, over 60 food stalls bring together the best of London's street food.
Mighty Hoopla
Feel like dancing until dawn? The extravagant Mighty Hoopla is coming to Electric Brixton on the 3rd and 4th of June during the Queen's Jubilee Bank Holiday weekend. Bringing together the best of pop and alternative culture, the festival promises many surprises.
Two headliners have already been announced: Steps and Sugababes. But that's not all! More than 200 artists have been announced and will be spread over seven different stages.
The programme also highlights queer culture. The festival makes a point of featuring LGBTQIA+ artists and performers.
If you were expecting a classic festival, you are wrong. Cabaret collectives, touring comedians, bands, collective karaoke and secret discos will be part of your weekend party.
Live at Chelsea
In the historic and beautiful setting of the Royal Hospital Chelsea, enjoy the series of individual concerts offered by Live at Chelsea from 15th to 19th June 2022.
15 June: Tom Jones
16 June: Max Richter
18 June: Simply Red
19 June: Paul Weller
In the courtyard of the 17th century building, also known as Figure Court after the central statue of King Charles II, the founder of the place, enjoy open-air concerts, either standing or seated. For a special treat, the festival has three VIP packages, all of which include VIP entry to the Royal Hospital Chelsea.
How to get there?
Yellow Original route: Hop off at stop #12 Victoria Station.
Wireless
This year, Wireless Festival is taking over not just one place, but three. London's number one urban and hip-hop music festival has a stellar line-up that should bring fans from all over the UK, as usual.
From the 1st to the 3rd of July 2022, head to Crystal Palace Park to enjoy the sounds of A$AP Rocky, J. Cole and Tyler, The Creator. If you haven't had enough or missed your favourite artist, the Wireless Festival will take over Finsbury Park in London and Outdoor at the NEC in Birmingham the following weekend. You can dance to the rhythm of the extravagant Cardi B and the sultry Nicki Minaj.
Kew The Music
If you fancy enjoying a concert in a more relaxed atmosphere, Kew The Music is for you! Bring your own picnic (or opt for one of the outdoor bars if you prefer), choose the perfect spot to put your tablecloth or chairs and enjoy the music in the Kew Royal Botanic Gardens. For a special night out, VIP tickets are available, including a delicious pre-concert barbecue as the London sun sets. There is also a grandstand to watch the artists perform.
This year, from 5th to 10th July, world-renowned artists are taking part, including James Blunt, James Morrison, Van Morrison and the Gipsy Kings.
Meltdown Festival
The unique Meltdown Festival is curated by a different artist each year and the year's lineup can include everything from a mix of funk, disco, jazz, soul, classical, to pop and R&B music, amongst other genres. There is something for everyone. It is the oldest artist-led music festival in the UK.
For its 27th edition, Grace Jones takes the reins. This year's headliner, an international icon of music, film and fashion, brings together artists from all over the world from 10th to 19th June 2022 at the Southbank Centre.
How to get there?
Blue Royal Borough route: Hop off at stop #18 Westminster Bridge.
Colourful summer festivals in London
Notting Hill Carnival
For a colourful celebration of Calypso and Caribbean music, Notting Hill Carnival is not to be missed. Enjoy steel band performances, storytelling, poetry, comedy and performances from a range of musical genres. This vibrant summer festival is open to everyone and is complete with Caribbean food and drinks and colourful parades celebrating the culture.
After a two-year absence, the carnival is back to delight your eyes and ears with its parades full of colours, feathers, frills and sequins, as well as its live performances on stage. See you on 27th, 28th and 29th August in Notting Hill in West London.
How to get there ?
Blue Royal Borough route: Hop off at stop #28 Notting Hill Gate.
London Pride
This year is a special year for London Pride. It is celebrating its 50th anniversary. The Pride Parade will follow its historical route, that of 1972, the year in which the first Pride march in the United Kingdom took place.
After two years of absence, the Pride Parade is expecting around 30,000 participants on 2nd July. They will march from Hyde Park Corner to Whitehall Place through the streets of the English capital, passing through historic and iconic places for the British LGBTQIA+ community. You can watch the parade along the route.
Before the closing parade, several events will punctuate this month of celebration. On 04th June 2022, a concert at the Royal Albert Hall promises to be incredible. At the end of June, it will be the grand final of Pride's Got Talent, the competition dedicated to music and cabaret by artists belonging to the LGBTQIA+ community.
How to get there ?
Blue Royal Borough route: Hop off at stop #14 Hyde Park - Queen Elizabeth Gate or at stop #20 Horse Guards Parade.
Summer tasting festivals in London
Taste of London
Enjoy 5 days of food at Taste of London at Regent's Park. As it does every summer, the festival offers you the chance to enjoy London food and drink at its gastronomic garden party in the heart of the capital.
Sample dishes from some of London's best restaurants, take part in a masterclass and purchase some mouthwatering and insolite food and drinks from the farmers market. Take part in VIP taste experiences and learn new ways to prepare your meals from some of the world's best chefs. Don't miss this event for all food lovers, from 15th to 19th June!
How to get there ?
Blue Royal Borough route: Hop off at stop #32 Praed Street.
London Craft Beer Festival
This year, the London Craft Beer Festival celebrates its 10th anniversary at the iconic Tobacco Dock on 12th and 13th August. For the occasion, the festival brings together the most popular breweries of recent years as well as the trendiest.
With a London Craft Beer Festival ticket, you get to try unlimited samples of beer from over 100 world-class breweries during your session. Breweries include Harbour and Weird Beard, amongst many others, along with a selection of pop up kitchens and a street food bazaar, not to mention London's best chefs ready to treat you. If you are not a fan of beer, cider, wine and spirits bars, as well as the non-alcoholic drinks, will appeal to you.
There is also live music with some great headline acts.
How to get there ?
Blue Royal Borough route: Hop off at stop #9 Tower of London.
From dance music to craft beer, there is a summer festival in London for everyone. Whichever one you choose, you are sure to have the time of your life! Don't forget to see and visit London's hotspots between days of celebration! You can see them on our various tours through the Old Smoke.