London pride 2023: What's on the programme?
---
Take advantage of the 51th edition of London Pride from 1st June 2023 to 2 July 2023 to explore the city. Celebrate the diversity of the LGBT+ community at free festivities in Trafalgar Square and events across the city. End on a high note with the colourful London Pride Parade.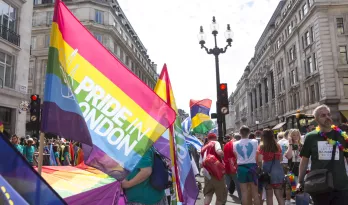 What are the origins of the Gay Pride?
The first officially coordinated UK Gay Pride march took place in London on 1 July 1972. This march both celebrated LGBT+ individuals and demonstrated the need for improved representation and rights. While the Pride marches became an annual event in London, there was still significant work to be done. The London pride marches were joyful and festive, but they were protests against injustice.
London Pride is coming back this year for its 51th edition. For the demonstrations, the organisers are calling on the UK government to ban conversion therapy for all LGBTQ+ people, to reform the Gender Recognition Act, to provide equal protection for LGBTQ+ communities against hate crime and more.
Pride in London celebrates the capital's LGBT+ (lesbian, gay, bisexual, trans +) community with a programme of events showcasing LGBT+ culture, including theatre, dance, art, cinema, parties and activities across the city.
What are the events of London Pride?
The Pride Festival kicks off on June 1, 2023, it's the Pride Month. During this month, you can assist a myriad of events, concerts, performances, and activities. Here are some ideas to go out and enjoy with your friends.
Come and meet new people while improving your French at a meeting on Sunday 3 June from 1pm to 3pm at the London LGBTQ+ Community Centre.
How to get to the London LGBTQ+ Community Centre?
Yellow route : hop off at stop 6 St Paul's Cathedral.
Attend a movie session on Friday 23 June 2023 starting from 6pm at BFI Southbank and discover the short movie 'Too Desi Too Queer', for London Indian Film Festival's. After this, a Q&A session will be held to share thoughts about the movie.
How to get to the BFI Southbank?
Yellow route : hop off at stop 4 Waterloo Station
What is the parade route for London Pride 2023?
This year, the Pride Parade will take place on July 1, 2023 and will welcome more than 30,000 marchers and 500 community groups.
Last year's edition was a real success, attracting crowds estimated at over 1.5 million people out onto the city's streets to watch the hundreds of bright and colourful floats and walking groups from many organisations, accompanied by a constant wall of noise from a variety of live music performers.
For the 51th edition, the route will be the same as the 1972's historic march. The parade will begin at Hyde Park, where the first post-march picnic took place in 1972, and end at Whitehall Place (not at Trafalgar Square such as during the 1972 march). Here are the main spots of the parade:
Piccadilly Circus
Trafalgar Square
Whitehall
To find all these places and to help you find your way around London, download the Tootbus application available on App Store and Play Store. To continue your visit, discover our ideas of festivals in London this summer.