Bank Holidays in May: activities to do in London
---
With summer just around the corner, bank holiday weekends in London are a great opportunity to enjoy fresh air and spend time with your loved ones. This year, there are three bank holidays: on Monday 1, Monday 8 and Monday 29 May. Enjoy your weekends with our Must See London bus tour!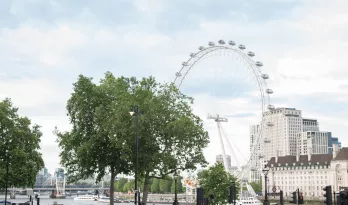 As you may know, this year, there are three bank holidays for the month of May:
Monday 1 May: Early May bank holiday ;
Monday 8 May: Bank holiday for the coronation of King Charles III ;
Monday 29 May: Spring Bank Holiday.
However you choose to take in the city, hop on a Tootbus sightseeing bus and combine unrivalled views of the capital with your plans to enjoy May bank holiday special weekends in London.
What are the musical events and concerts planned for May bank holidays?
Whether you enjoy a relaxing orchestra or upbeat fiestas, there are some great live music concerts, festivals and celebrations in London for May bank holidays.
The Crusting Pipe
If you've ever seen a crowd gathered around the balcony of Covent Garden's market building, or heard classical melodies echoing around the market, they were probably coming from The Crusting Pipe. Grab a bite to eat and enjoy live performances of local musicians and actors.
How to get there?
Yellow Route and Green Route: hop off at stop 5 Covent Garden.
Cross The Tracks
This year, there will be one of the best festivals of funk, soul and jazz in Brixton, in Brockwell Park, on the 28th of May 2023: Cross The Tracks. From midday to 10:30pm, several talented artists like NxWorries, Masego, Ezra Collective, Kelis, Alfa Mist and many more will perform.
Once there, you will be able to enjoy local craft beers and delicious street food from Jamaica to Asian-inspired cuisine. Get a new hairstyle or buy handmade jewellery made by the independent artisan traders. There are also workshops and panel talks. In short, there is everything to have a good weekend!
Shows
West End
A night out at the theatre is one of the best things to do in London with family and friends in May. The area is home to some of London's biggest theatres, which offer a wide variety of musicals. Take advantage of the long weekends to see one of the West End's famous theatre shows. Les Misérables, The Lion King; you really can't go wrong!
How to get there?
Yellow Route: hop off at stop 1 Coventry Street or stop 2 Trafalgar Square.
The Globe Theatre
To see or not to see, that is the question. Whether you're a Shakespeare fan or not, a trip to The Globe Theatre is essential for a taste of traditional British theatre. You can see the BBC CBeebies: Twelfth Night, The Comedy of Errors and A Midsummer Night's Dream on bank holiday weekends in London from just £5!
How to get there?
Yellow Route: hop off at stop 7 London Bridge.
What outdoor activities can you do during the May bank holidays?
May marks the first summer bank holidays in London and the warmer months are on the way. Walks, exploration, thrill-seeking activities, discover the places to enjoy the fresh air in London.
Hyde Park
Hyde Park is especially beautiful when spring has sprung. Head to the park with a picnic and football or hire a boat or bike for a few hours before ending your trip with an ice cream in one of the waterside cafes. There are also lots of statues and memorials, including one of Peter Pan which is tucked away in Kensington Gardens. A stroll through the park green spaces is the perfect end to bank holiday Monday in London.
How to get there?
Yellow or Royal Blue Route: hop off at stop 14 Hyde Park - Queen Elizabeth Gate
London Tours
You can buy a 24, 48 or 72 hour London Discovery bus ticket with Tootbus or Hop-on to our buses and enjoy a river cruise with your ticket.
City Farms
Take advantage of the May bank holidays to discover a different side of London and the surrounding countryside. City farms are the perfect place for a family outing close to nature. Meet the farm animals and get your fill of locally made, good quality produce. It's also the perfect place for a picnic with family and friends if the weather is nice.
Go White Water
Grab a group of friends and head to Lee Valley White Water Centre. Try white water rafting, canoeing, kayaking or tubing on the Olympic course from just £29 per person and enjoy an action-packed May bank holiday. And don't worry if it's raining, because you're going to get wet anyway!
Where to eat and drink for May bank holidays?
An extra day off work means an extra day of great food and drinks. Whether you're after a healthy lunch or you want to party all night, there are some great places you can visit.
Piano Works Bar
For a night out to remember for these May bank holidays, head to The Piano Works in Farringdon or in the West End. Every bank holiday Sunday is special. You can have day entries from 1:30pm to 6pm or evening entries from 9:30pm to 3am.
The resident band plays music requested by you from 11pm to 2 or 3am. With drinks offers, food and a personalised concert, The Piano Works should be at the top of your list this bank holiday.
How to get there?
Yellow Route: hop off at stop 6 St Paul's Cathedral or stop 2 Trafalgar Square
Southbank Centre Food Market
Located on the south bank of the River Thames, Southbank is a dynamic area of London with many cultural and family activities. Take a walk along the Queen's Walk and stop at the Southbank Centre Food Market. This must-visit market offers a wide range of street food and drink to suit all palates, even on bank holiday Sundays and Monday, from noon to 6pm for Mondays or 9pm for Sundays.
How to get there?
Yellow Route: hop off at stop 4 Waterloo Station
Rooftop Bars
The month of May is finally here and it announces the return of good weather! It's the perfect time to discover the wide variety of rooftop bars that dot London. Enjoy a cocktail and take in the views from the high terraces, which regularly host fun events and live music. We recommend booking as these bars are often packed!
If you're looking for the most original rooftop bar in London to begin your evening in a perfect way, hop on the Tootbus London Bar Bus! Our bus has a roof terrace like no other as you take in London's magnificent sights while relaxing with a few drinks.
Crazy Golf
And why not make the most of your visit to London in May to play a round of golf? But be warned, this isn't a classic game of golf where concentration and endurance are required! Instead, try a crazy golf with a twist and even a drink. We recommend the Swingers West End where you can also have a meal and the Junkyard Golf Club for its flashy and festive atmosphere.
How to get there?
Yellow Route: hop off at stop 1 Coventry Street.
May bank holidays are the perfect opportunity to explore London! Our Tootwalk feature has three walking tours: Kensington Gardens, Royal Shopping at St James's and Architecture and Celebration. So open your Tootbus app and discover the capital differently!