Best kids activities in London for spring
---
It can sometimes be difficult to find fun and enjoyable activities to do with children when travelling. Check out our age-appropriate ideas: from museums and zoos to theatres and playgrounds. With our Kids Tour, visit London in an unusual way.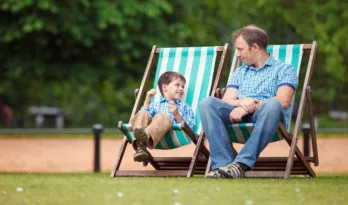 In this guide to keeping your toddlers entertained in London, we have found:
Museums for curious kids in London
Places to see animals up close
Free parks and playgrounds
Indoor fun to suit your budget
Theatre and arts for petite performers
Historical places
Indoor play for a rainy day
1. Museums for curious kids
From trains to pterodactyls, the best London museums for kids have plenty to offer and a variety of daily workshops and activities to satisfy curious little minds. If you're looking for things to do in London for toddlers, a trip to the museum is a great choice.
Natural History Museum
Hope, the blue whale, welcomes guests of all ages to the Natural History Museum where she hangs high above Hintze Hall. If your children love learning about sea creatures or are dinosaur mad, the Natural History Museum will help them explore the natural world. The museum offers free entry every day from 10am-5pm and holds workshops and shows for schools and nurseries visiting with under 5s.
How to get there?
Blue route: Hop off at stop #26 Museums.
London Transport Museum
If you spend your days singing 'the wheels on the bus' or watching 'Thomas the Tank' then the London Transport Museum in Covent Garden will be perfect for you and the kids. Annual adult tickets are £21 and under 17s go free. You'll also find a dedicated 'All Aboard' play zone for children aged 0-7 and term-time activities for under 5s.
How to get there?
Yellow and green routes: Hop off at stop #5 Covent Garden.
Science Museum
For the little genius in your life, the Science Museum has interactive galleries for under 8s including the Pattern Pod multi-sensory area. In The Garden, children aged 3-6 can explore water, light, sound, shadows and reflections through play, making this one of the great places for toddlers in London. The museum, in South Kensington, is free to enter and is open daily from 10am-6pm and there are various exhibitions and events throughout the year.
How to get there?
Blue route: Hop off at stop #26 Museums.
Madame Tussauds
A crowd pleaser for all ages, your kids will love getting their photo taken with their idol's in Madame Tussauds. Get close to Marvel characters, the cast of Star Wars, Youtubers, pop stars and even the Royal Family before taking the Spirit of London black cab ride of the capital through the ages. Madame Tussauds is a family friendly day out, perfect for all ages - even the big kids will love it!
National Maritime Museum
At the National Maritime Museum in Greenwich, there is plenty for children to see and do. Young pirates and budding explorers can look forward to a day full of action and fun.
2. Places to see their favourite animals up close
From sharks to giraffes, little ones love seeing their favourite animals up close. So, why not take them to the zoo or aquarium to meet their favourite animals on land or sea?
ZSL London Zoo
At ZSL London Zoo, under 3s the visit is free and there are also discounts available for family, group or online bookings. There are daily shows including feeding sessions and live talks. Seasonal events also take place, including opportunities to visit Santa at an additional cost. London Zoo in Regent's Park is open daily from 10am, with seasonal closing times.
Battersea Park Children's Zoo
Battersea Park Children's Zoo offers family tickets from £35.50. It is open from 10 am every day with alternating closing times depending on the time of year. During your visit, you and the kids can watch different animals getting fed throughout the day and your tots can monkey around on the adventure playground.
SEA LIFE London
For kids who love all things under the sea, the SEA LIFE Aquarium allows them to see their favourite swimmers up close. You can explore the aquarium through the ocean tunnel or shark walk, find Nemo in the coral reef and stroke smaller creatures in the Rockpool. This is one of the great places to take 2-year-olds in London because under 3s visit free!
How to get there?
Yellow route: Hop off at stop #3 London Eye.
Blue route: Hop off at stop #19 Westminster Bridge.
3. Free Parks and Playgrounds
Come rain or shine, kids love to play outside. There are plenty of outdoor places to take toddlers in London and lots of playgrounds for them to explore.
Diana Memorial Playground
This pirate ship playground in Kensington Gardens opens at 10 am every day, with different closing times depending on the time of year. Toddlers can explore the sensory trail, teepees, beach, toys and sculptures and there is seating available for parents. The playground is permanently manned by staff and on busy days, such as school holidays or weekends, you may need to queue up before entering.
How to get there?
Blue route: Hop off at stop #30 Bayswater Road, Thistle Hotel.
Hyde Park
For endless adventures and great activities for kids which won't cost you a penny, head to Hyde Park. Take a picnic, fly a kite, play football or spend time in the Diana Memorial play area and make memories with your children in Hyde Park. If you have cash to spare, you could swim in the Serpentine in the summer months, hire a boat or a bike or visit the magical Winter Wonderland when Christmas is approaching.
How to get there?
Yellow route: Hop off at stop #14 Hyde Park, Queen Elizabeth Gate, #15 Marble Arch, or #16 Oxford Street.
Blue route: Hop off at stop #14 Hyde Park, Queen Elizabeth Gate, or #16 Oxford Street.
Coram's Fields
This 7-acre playground in the St Pancras region has grassed areas, playground equipment, a sensory music area, sandpits and paddling pools which are open in the spring and summer months. There is a small farm, cafe and an under 5s drop-in centre that is open mid-week between 9.30am-12.30pm. Drop-in centre activities include soft play, role play and craft.
Queen Elizabeth Olympic Park
Tumbling Bay Playground is free to enter and is complete with rock pools, sandpits, tree houses, swings, slides and much more. The park is in a natural landscape environment and there is plenty of open space for picnics on sunny days and free play. Tumbling Bay is also close to the Timber Lodge Cafe if you fancy a bite to eat.
4. Indoor fun to suit your budget
If you're travelling with toddlers in London, days out can be difficult to plan. Visit child-friendly attractions or treat them to a new toy.
Hamleys Toy Shop
On Regent Street, Hamleys Toy Shop is spread over 7 floors of fun and is a perfect rainy day option to suit any budget. There are free toy demonstrations every day and a dedicated preschool section with toys for tiny tots to aid in learning and development. The store is open every day.
How to get there?
Yellow route: Hop off at stop #1, Coventry Street.
Blue route: Hop off at stop #22, Piccadilly.
Discover Children's Story Centre
Not far from Queen Elizabeth Olympic Park is Discover Children's Story Centre, open every day from 10am-5pm. There are over two floors of stories and play facilities and a Story Garden playground outside.
Visitors can bring their own picnic and there is a cafe, free lockers and a buggy park. Family tickets are available from £23 and under 1s go free. Don't forget to check out storytelling events and performances before you visit.
5. Theatre and arts for petite performers
Does your little one love to put on a show? There are some great theatres specifically for kids, which encourage engagement and exploration through role-play activities.
Unicorn Theatre
The Unicorn Theatre showcases theatre productions especially for children and babies. The baby and toddler shows are centred on sensory performance and experiences and some productions include a post-show play session. Show prices vary and the venue is child-friendly, encouraging audience participation during productions. There is also a 'Living Room' area which has a range of books, toys and a sitting area for adults to relax.
How to get there?
Yellow route: Hop off at stop #8, Tooley Street.
The Barbican Centre
The Barbican Centre is a cultural centre in the north of the City of London. It is the largest performing arts centre in Europe. The Barbican Centre offers different events and workshops all year round centred on theatre, film and exploration. Some family-friendly workshops are free.
Southbank Centre
If your little one loves the performing arts, the Southbank Centre has a variety of musical workshops, productions and nursery rhymes. Arts events are year-round and some have free admission or offer a free adult/child ticket with a paying participant. There are also plenty of places to eat and drink or you can bring your picnic to eat at the Royal Festival Hall foyer.
Whether your toddlers love to run around in the park or settle down for story time, there are tons of ways to brighten their day. Add to the experience by taking them to see the most exciting sights in London on our Kids tour.
How to get there?
Yellow route: Hop off at stop #4, Waterloo Station.
6. Historical places
If you need inspiration for visiting London's top sights, check out our selection of must-see attractions to visit with kids.
Tower of London
You don't even need to pay to amaze the kids with the spectacle that is the Tower Bridge but if you really want to win parent points, take them inside the Tower of London on the banks of the River Thames..
There are mediaeval stories, historical re-enactments and interactive adventures to enjoy whilst you wow the kids with the crown jewels and the grand castle walls. Whilst you're visiting, kids can take part in digital missions, see the ravens who guard the Tower and find life-sized sculptures of exotic animals who were once held captive.
How to get there?
Yellow route: Hop off at stop #9, Tower of London.
Buckingham Palace
You can't go to London without visiting the new King! Take the kids to Buckingham Palace and if the Royal Standard flag is flying, you'll know the King is home! In the summer months, you could even visit the state rooms and family pavilion or take the multimedia family tour. Look out for royal signs and symbols and see if you can spot the secret doors used by the King as you journey through the Palace.
How to get there?
Yellow route: Hop off at stop #11, Buckingham Palace.
Blue route: Hop off at stop #17, Buckingham Palace.
London Dungeon
Discover London's dark history as you venture into the London Dungeon, located near the London Eye. Recommended for children aged 12+, there are 17 interactive shows which uncover 1000 years of history and thrilling rides through the dungeons. This one is not for the faint hearted so prepare to be spooked and enthralled by the gripping tales of London's dark past. The London Dungeon is a great place to visit with older kids so plan your visit now.
7. Indoor play for a rainy day
If you are looking for indoor places for toddlers in London, there are plenty of play centres in the city which are perfect for a rainy day in London. These are toddler-friendly and have separate play zones for tiny tots.
Gambado
Gambado is the ultimate indoor play centre, with prices for 1-2-year-olds starting at £9. Under 1s, the price is £1.95. There are dedicated soft play areas for under 4s with stimulating sensory activities. These include an infinity tunnel, bubble tubes and bouncy ball pits.
The entry price includes unlimited use of fairground rides. Cafes are available on-site and opening times vary depending on the time of year.
KidZania
KidZania is an indoor city run by kids. Located in Westfield shopping centre, KidZania is a great place to take your little ones and there are lots of fun activities for kids 4 and older visiting London. With education, exploration and entertainment at the heart of the play centre, children can role-play a number of different professions during your four-hour visit.
Discovery Planet
Surrey Quays shopping centre offers tons of fun for a great family day out including bowling, a cinema, restaurants and Discovery Planet indoor play centre. The shopping centre provides free parking for 4 hours and the play centre is open from 10am-5pm. There's a toddler area for under 4s and Discovery Planet holds a midweek parent and toddler session between 10am-12.30pm for only £3.49!
How to get there?
Yellow route: Hop off at stop #3, London Eye, or #4, Waterloo Station.
Blue route: Hop off at stop #19, Westminster Bridge.
Finally, for all you film buffs out there, we recommend exploring the city on foot and finding your favourite film locations in London. Take advantage of our hop-on hop-off tours to see Big Ben, Westminster Abbey and the many sights of the British capital.