International museum day in London: things to know
---
The international museum day is the perfect opportunity to open yourself to art and culture. On the 18th of may, museums from all around the world will organise activities to celebrate this day. Discover all the cultural resources of London with our London Discovery bus tour.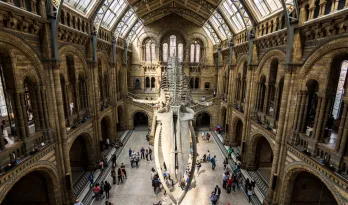 What is the international museum day in London?
The International Museum Day is aimed at showing the role of museums in society, in terms of education, cultural exchange, cooperation or peace among different populations. This day, organised by ICOM (International Council of Museums), is attracting more and more museums.
Each year on 18 May, thousands of museums around the world participate in the event, offering activities, exhibitions and conferences related to the year's theme.
What is the theme of International Museum Day for 2023?
This year's theme is "Museums, sustainability and well-being". This topic has three key objectives:
Goal 3 Global health and well-being: Contribute to the improvement of people's well-being, including mental health and isolation issues;
Goal 13 Climate action: Engage in action against global warming to reduce the carbon footprint;
Goal 15 Life on Earth: Protecting natural resources and biodiversity.
The event focuses on these issues and how museums can have positive impacts as institutions.
What are the activities to do?
Museums from all around the world offer activities and special events, in order to promote sustainability and well-being. The day is also being promoted with the hashtag #IDM2023.
Exhibitions, relaxation sessions or guided tours, whether online or offline, these activities can change depending on participating museums. Visit the ICOM interactive map or ask the museums you are interested in to find out what activities are on the programme.
Which museums to visit on International Museum Day in London?
International Museum Day is the perfect opportunity to discover (or rediscover) London's museums. Here is a selection of 5 must-see places!
British Museum
National Gallery
Victoria and Albert Museum
Science Museum
Natural History Museum
A good thing to know: all admissions to these museums are free. However, some events are free and some are not. So make sure to check if the activity you want to do requires buying or booking tickets in advance.
British Museum
The British Museum is a must-see in London. What makes it unique is its massive collection, bringing together a multitude of cultures from around the world.
The museum contains over 8 million objects, which show the diversity of human culture and the similarities that exist between them.
You can discover many exhibitions and events at the British Museum.
During your visit, travel back to the time of ancient Greece with the exhibition 'Luxury and power - Persia to Greece', to discover the luxurious Greek and Persian treasures and their political impact in Europe.
There are also free exhibitions, such as the magnificent Japanese Ship Festival, Klaus Friedberger's drawings from his detention in Australia or the development of printing from the 1500s in Venice.
Visitors are advised to book a free ticket to ensure entry to the museum.
How to get there?
Green Route: hop off at stop 41 British Museum
National Gallery
London's treasure internationally renowned, the National Gallery is housing over 2,300 artworks, from the Renaissance to Post Impressionism. It includes paintings of great names such as Van Gogh, Michelangelo and Rembrandt.
Until 11 June 2023, discover the exhibitions 'The Ugly Duchess: Beauty and Satire in the Renaissance' and 'Nalani Malani: My Reality is Different'. The first exhibition depicts the perception of atypical looks among women in the Renaissance and its impact today. The second one presents 25 impressive animations of classical characters and hand-made animations, which are displayed in a black space.
There is also an app for children, 'The Keeper of Paintings and the Palette of Perception', which encourages them to explore the National Gallery and its paintings with an immersive experience.
How to get there?
Royal Blue Route: hop off at stop 21 Horse Guards Parade
Victoria and Albert Museum
This is one of the largest museums of decorative art and design in the world. The Victoria and Albert Museum contains over 4 million masterpieces. Its impressive collections come from Europe, Asia and Africa.
Enjoy temporary events such as 'Donatello: Sculpting the Renaissance', which depicts the evolution of the sculptor through his works and his impact on future generations, or 'Hallyu! The Korean Wave', which traces the history of Korean influence in the world of art and entertainment.
How to get there?
Royal Blue Route: hop off at stop 26 Museums
Science Museum
For something more playful and scientific, you should go to the Science Museum (especially if you are with children). Trace the evolution of science, technology, industry and medicine. You'll discover the first advances in automobiles, IT, medicine, telecommunications, astronomy and more.
The museum has more than 300,000 objects, making it a must-see in its genre.
There are many activities, events and exhibitions at the Science Museum, such as the interactive exhibition 'Science Fiction: voyage to the edge of imagination' or the exhibition 'Injecting hope: the race for a COVID-19 vaccine'.
How to get there?
Royal Blue Route: hop off at stop 26 Museums
Natural History Museum
The Natural History Museum is internationally renowned for its collection of Earth history. This is due mainly to its gigantic dinosaur and meteorite gallery. You can discover large collections on different themes: space, ocean, human evolution, dinosaurs, fauna and flora.
Meet one of the largest dinosaurs that ever existed with the interactive exhibition 'Titanosaur: Life as the Biggest Dinosaur' or discover the engravings of American birds by John James Audubon.
How to get there?
Royal Blue Route: hop off at stop 26 Museums
Want to enjoy London at your own pace? The Tootwalk feature of the Tootbus app has 3 themed walking tours to discover:
Kensington Gardens
Royal shopping at St James's
Architecture and celebration
You'll pass by some of the capital's most famous landmarks, while enjoying a memorable ride!