Ideas of things to do in London for couples
---
London is an international capital where you'll never struggle for ideas to enjoy and explore with your special someone! Visit London with your partner and check out our selection of things to do as a couple, from romantic places to wander to fun activities to try out together.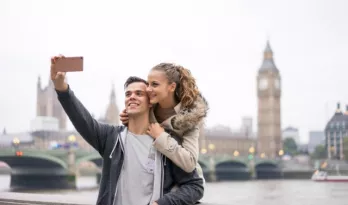 London Date Ideas for the Day Time
There's plenty of obvious London attractions that should definitely feature in your weekend plans. But once you've explored the likes of Buckingham Palace, Big Ben, the London Eye, and the Tower of London, we've got lots of ideas for fun days out in London for couples which are a little more unexpected.
1. Tootwalk
Discover London hand in hand with your partner on a walking audio tour with Tootbus' new service: Tootwalk. This feature is available on the Tootbus app, which you can download for free from the App Store and Google Play.
2. Thames Rockets
Looking for adrenaline-filled couple activities in London to kick-start the weekend? Take an exhilarating ride on the Thames on London's popular speedboat experience. Hold on tight (to each other!) as you soar past attractions such as Tower Bridge and the O2 and dash past the Docklands.
3. Deer spotting in Richmond Park
If you're looking for cheap romantic things to do in London, you can't go wrong with a walk in the park. While Richmond Park is a little further from the city centre in south London, it's perfect for a romantic afternoon stroll. It's famous for its wild deer, and these magnificent creatures roam freely for all to see. Richmond Park has a calmness about it that is truly beautiful and well worth a visit.
4. Relax with a Spa Afternoon
Escape the stresses of everyday life and retreat to one of the many hotels that offer luxury spa packages for the ultimate romantic day in London. There's plenty of places to choose from: The Mayfair Hotel, Corinthia London and The Berkeley all have very good reviews.
5. A Romantic Walk in Kew Gardens
Looking for romantic places to visit in London and avoid the hustle and bustle of the city ? Walk hand in hand through the beautiful Kew Gardens. Admire the colourful and unique landscape which is blooming with diverse plants and flowers all year round. A place of tranquillity, Kew Gardens offers the perfect place for a relaxed date.
6. A Delightful Afternoon Tea
A romantic weekend should always feature bubbles and cake. Treat your loved one to an Afternoon Tea like no other at Palm Court! With over 30 different tea blends, exquisite pastries and delicate cakes and finger sandwiches, Palm Court promises the wow factor. Of course, London has many afternoon tea options to consider.
7. The Shard at Sunset
Are you wondering where to take your partner in London? What's more romantic than seeing the sunset? Watch the sunset over the breathtaking London skyline before heading to one of The Shard's stunning rooftop bars. Venture to the View From The Shard together and watch day turn into night.
8. Be Daring and try Up at the O2
Maybe you aren't the lovey-dovey type? Well, if that's the case, book a 90-minute experience at Up at The O2. Not one for the faint-hearted, this adrenaline-filled activity will have you scaling the roof of the famous London landmark- with a qualified instructor of course! You're sure to be feeling weak at the knees when your feet touch the ground.
9. River Cruise
Take a romantic trip along the River Thames and see all of London's best known sights from Westminster to Greenwich cuddled up to your special someone with our Must See London tour!
Date Night Ideas in London
1. London by Night
Discover London's top attractions at dusk with your loved one. Come on board our London by Night and watch the city burst into life at night!
2. Stargazing at the Royal Observatory
Ok, so stargazing at night-time, outside and under the city smog, might not be a viable option for a date. However, if you did want to add a bit of culture to your weekend, head to the planetarium show at the Royal Observatory in Greenwich where you can admire the darkest depths of outer space. Afterwards, you can snuggle up with a mug of something warm in the courtyard.
3. The Globe
Who speaks the language of love better than Shakespeare himself? As the ultimate creator of famous love stories, it's certainly worth seeing if there are any Shakespearean tales that take your fancy. Steeped in history, The Globe's quaint charm provides the perfect romantic setting.
4. Rooftop Cinema
Theatre and stargazing, not your thing? Check out a rooftop cinema! There's the Rooftop Film Club at the Bussey Building in Peckham or Roof East in Stratford.
If the weather is not on your side, head to an old-school cinema. At Screen On the Green, you and your significant other can settle down on a cosy sofa, complete with footrests and waiter service.
5. Museum Lates
Explore London's world-class museums after hours for a unique experience. Many of the city's museums open late on certain weeknights. Some museums even offer a drink to help you concentrate on the exhibitions. Go along and enjoy special tours, live performances and a fantastic setting!
6. Bloomsbury Bowling Lanes
Go head to head in a competitive game of bowling! Bloomsbury Bowling Lanes has the fun factor when it comes to romantic activities in London, offering an American style affair. You can even spoil your date with one of Bloomsbury's famous milkshakes after you've finished your game.
7. Head to the West End
A trip to the theatre is one of the top romantic things to do in London. Dazzle your loved one with a trip to one of London's renowned theatre shows in the West End. Les Miserables, The Lion King, Wicked; you can't really go wrong!
8. The London Eye Champagne Experience
The London Eye offers a dreamy champagne experience. Take in the panoramic views of the city with a glass of bubbly and the one you love. Check availability and book before you go to avoid disappointment.
Wine and Dine in Style
Dinner by candlelight and a good bottle of wine. Does it get any more intimate than that? With so many restaurants to choose from, it's hard to pick somewhere with the right ambience. However, with our top picks for dates in London, you won't get it wrong.
1. Clos Maggiore
Dubbed as London's most romantic restaurant, the Clos Maggiore in Covent Garden certainly doesn't disappoint when you book a table for two. The conservatory area is beautifully decorated with an enchanting forest of blossom trees and fairy lights. Add candles on every table and a roaring fireplace and you get a soft, cosy vibe.
2. Hakkasan
If you're a lover of chinese cooking then treat yourself and your loved one to a Hakkasan experience. This Michelin star restaurant serves Cantonese cuisine that is out of this world. The Cantonese dishes served in this renowned establishment have no resemblance to the food served at your local takeaway. The modern fine-dining approach at the Hakkasan certainly makes for a memorable evening.
3. Bob Bob Ricard
A popular celeb haunt, this Russian brasserie serves upscale comfort food classics; think beef Wellington or chicken Kiev, with a sophisticated twist. It hosts three separate dining rooms. The Blue Dining Room is influenced by the Orient Express, flamboyantly designed. The Red Dining Room is a decadent red and gold, decorated with oriental motifs and patterns. Last but not least is the Private Dining Room, an equally glamorous approach to the Royal Dining Carriage!
4. Galvin at Windows
If you're looking to seriously impress, then there's nowhere better than Galvin at Windows for a romantic meal for two. This Michelin-starred restaurant isn't just renowned for the food it serves but also the view. Situated on the 28th floor of the London Hilton on Park Lane, it overlooks iconic sights such as Hyde Park, the London Eye and Buckingham Palace. Some might say it was the ideal location for a proposal.
5. Sketch
If you're a couple who just loves to try new and exciting foods, then it doesn't get more imaginative or bold than the cuisine served at Sketch. Open for afternoon tea and dinner, this vibrant gastro-brasserie takes a fun and artistic approach to food and has the distinctive decor to match.
6. Boundary Rooftop
Take your date to Boundary Rooftop and enjoy Mediterranean inspired cuisine in its heated orangery. Filled with sweet smelling citrus trees and a relaxing vibe, it is the perfect place to get to know each other. In the winter months, you can enjoy the added comfort of an open fire pit and hot cocktails to keep you nice and warm at the rooftop bar. Great food and a great location- it's a safe choice for a romantic meal.
7. The Ledbury
With two Michelin stars to its name, you're unlikely to leave The Ledbury disappointed. Its modern French menu is so impressive it has featured in the world's top 50 restaurant list on more than one occasion. So, if it's a bit of luxury you're looking for, book a table at The Ledbury.
The Perfect Place for a Tipple
So, you've finished your evening meal and now you're looking for cosy cocktail bars to enjoy a drink or two. The good news is that you're spoiled for choice. However, these are some of our favourite hangouts for loved-up couples.
1. Bar Bus by Tootbus
Take a seat on the Bar Bus and enjoy the most original rooftop terrace of London, enjoy breathtaking views of the city while having a drink!
2. Ronnie Scotts
If you're looking for entertainment to go along with that drink, then consider Ronnie Scott's. One of the oldest live jazz clubs in the world, you can book a candlelit table for two and enjoy the smooth sound of live music. This iconic venue oozes ambience and is the perfect choice for a couple's night.
3. The Vaults at Milroy's
Situated in Greek Street, Soho, this little place offers a cheerfully intimate vibe. This speakeasy-style basement bar is far removed from the busier Soho bars and offers some of the best cocktails in London. If cocktails aren't your thing then maybe whiskey is? As the vault is situated underneath a scotch shop, the choice is certainly diverse.
4. Basement Sate
What happens if you take well-made drinks, decadent desserts and good music and put them all in one place? Well, you get Basement Sate. This Soho haunt is the perfect informal setting that oozes vibrancy while delivering great flavours and a comfortable setting. It's perfect for a more low-key date.
5. Happiness Forgets
Searching for a pre-dinner drink? Take your loved one Happiness Forgets; an NYC style speakeasy in Shoreditch with unfaltering reviews. Small and compact, you'll need a beady eye to spot this place near Hoxton Square. When you do, prepare to be dazzled by incredible cocktails, a tasteful interior and wonderful service.
6. Bounce
If you're anti-romance then why not head to Bounce - the home of ping pong! Have a competitive head to head game in this popular location where dimly lit rooms and twinkling candles aren't anywhere to be seen!
7. Sky Garden
Propose your special someone a truly unique date night in London. With a glass of Champagne in hand, watch the lights of the city below and enjoy love songs played by a DJ.
The Sky Garden at night is enchanting as the dimmed lighting gives an intimate feel. The atmosphere is different and the view over London is just breathtaking!
8. Rail House Cafe
Before you say your goodbyes to each other, or to London, head to the Rail House Cafe in Victoria for the perfect send-off. Serving food all day and a selection of tasty cocktails by night, the vintage railway station decor will have you wanting to hop back on the next train to London.
So there you have it: our list of alternative things to do in London for couples. And if you're visiting London with your partner on Valentine's Day, check out our selection of activities to do on this special day!